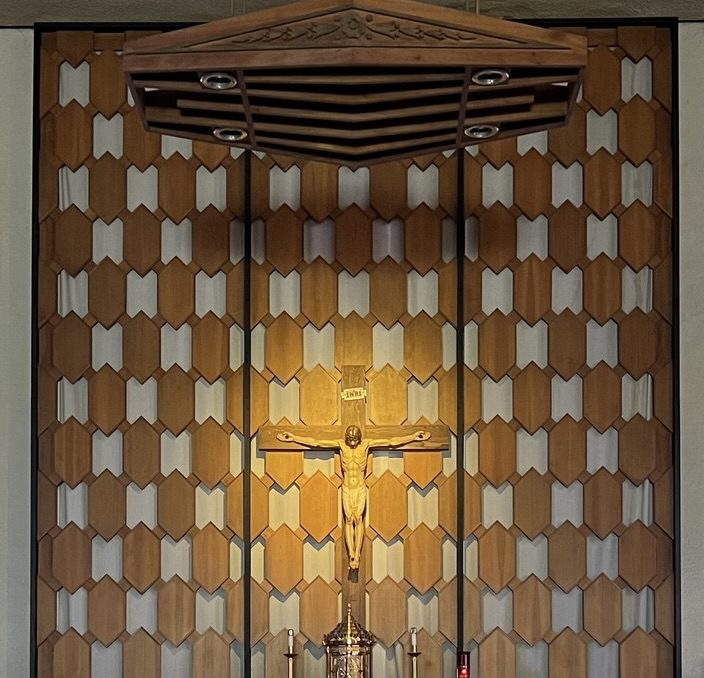 Altar Improvement Project
Parishioners and Friends of St. Frances Xavier Cabrini,
Before we finished the church's roof repairs, water worked its way down into the walls and damaged our Sanctuary. The plaster behind the altar deteriorated, hanging from behind the brown lattice we all see when we enter the church. Even at the foot of the crucifix sat piles of rubble from this damage which collected over the years.
You can help transform the look of where we come together to worship into something that is finally fixed and inspiring again to all of us, even new members. We repair the parking lot and the roof, and our beautiful church windows. Now for the first time, I ask you to support a program to focus on the inside of the church. Let us repair the church interior where we pray.
It's not easy work. At first, we thought we would never be able to afford the repairs. To remove the brown lattice and remove the damage and replaster the area behind the altar would cost upwards of $100,000. That's too much. We're a humble community focused on prayer.
We found a group of talented church artisans who have performed similar work who could repair damage like this and create something beautiful for our community, as they have for church communities across the Midwest. They can trace their roots back seven generations of church repair and renovations. This experience will help keep the cost to what we hope our community can afford to improve our St. Frances Xavier Cabrini church.
The church improvement project will remove this damaged plaster from view and in the process build something special to emphasize the crucifix behind our altar. The lattice screen and all of the damaged plaster will be covered with thin drywall material and painted a shade of white.
Our crucifix will be mounted higher on the wall and be complimented with color and golf leaf work completed by the church artisans. This offers us a safe, effective and more affordable solution with a very tasteful approach to making sure our crucifix is the center of attention on our altar.
Will you act today and help transform the inside of our church? We need to raise $38,000 for this church improvement project if you can help support these improvements. We need to raise the total amount before they will start. They estimate this project will take will take about 5-7 weeks to complete once scheduled.
I ask for your generosity to help fund this project if you are able to support this. You can make these improvements possible by responding to this letter with a special contribution in the enclosed envelope. If you would like to also make monthly contributions, you will also receive special envelops in your monthly packets.
Please send in a gift to help repair and renovate the area behind the altar.
Please consider repairing the sanctuary and improving our church. A donation of any size will help us make these church repairs possible.
Peace,
Father Neil